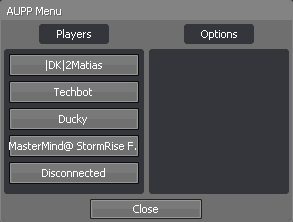 Aurora uses its own custom Prop Protection system, which means other People aren't able to move, dupe, or manipulate via E2.
You can access the Menu using F4.
Giving Access to other People
Edit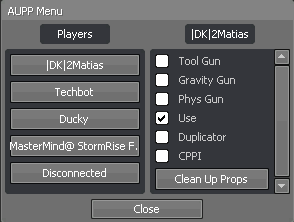 If you want to give your Friend access to your Props/E2s you need to click on their Names and check the options you want to share. Changes will be made instantly, so you don't need to confirm it.
On the Example on the right I've given Matias Use rights which let's him use Buttons and all that stuff.
Toolgun
Gives the Player Tool Gun access for example: 
All Tools including Color Tool, Wire Tools, etc... NOT the Duplicator.


Gravity Gun
Allows the Player to use the Gravity Gun for your Props.


Phys Gun
Allows the Player to use the Phys Gun for your Props.


Use
Gives the Player Use access. 
Example: Buttons, Useable Entities


Duplicator
Gives the Player Duplicator access. 
You will need to enable the Toolgun option as well.


CCPI
Gives the Player CCPI access. 
CCPI access is needed for Wiremod related entities.

Giving all People Access to only One Prop/Entity
Edit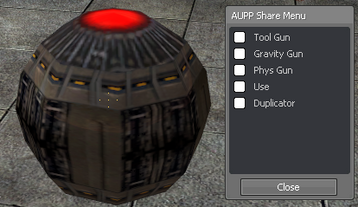 To give ALL People access to one Prop you need to look at it and press F3.
Community content is available under
CC-BY-SA
unless otherwise noted.